---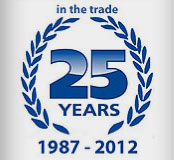 | | |
| --- | --- |
| | Best and Worst Typefaces |
The Top Ten Best Typefaces EVER!
Designers know a good font when they see one. Many designers tend to stick to a core of fonts which have over the years proven to be dependable, reliable, and sturdy in the ever-changing culture of visual media. Although thousands of new fonts arrive year after year, it seems that a few exceptional ones just never go out of fashion and have become rooted in our everyday lives. Here's our top ten fonts of all time.

---
10:


An old slab serif typeface, originally created in England by Robert Besley during the 1840's, this widely popular typeface was one of the first to be officially registered and was used extensively by the German Empire during World War 1. It was also a common typeface used on wanted posters in the American Old West. The typeface is still widely used today and can be found in the logo type for the popular restaurant chain Ruby Tuesday and electronics company SONY. It's also a popular font for decorative door numbers and building name plaques.
---
9:


Gill Sans is a humanist sans-serif typeface designed by Eric Gill around 1926-28 which achieved huge prominence almost immediately. It was adopted heavily by the London and North Eastern Railway system, appearing on timetables, station signs, train nameplates, and advertising posters. It is very similar to the original London Underground font although there are a few subtle differences. Gill Sans is still widely admired and can be seen in use in many places, including the BBC and Network Rail, as well as a number of popular movie posters and adverts.
---
8:


Times New Roman is possibly the most omnipresent typeface of all time. It is a serif typeface originally commissioned in 1931 by the British newspaper The Times and designed by Stanley Morison and Victor Lardent. Following complaints about the quality of the print in the newspaper, the typeface was commissioned to improve the typography, bringing the printed copy up-to-date and improving its efficiency and readability. It is still widely used in books, magazines, and other printed material as well as in countless logos. Times New Roman has found a comfortable home in all of our daily lives.
---
7:


Franklin Gothic is a sans-serif typeface designed by the celebrated American typeface designer Morris Fuller Benton in 1902. It became hugely popular thanks to its striking and heavy appearance and was used extensively on newspaper headlines, advertising billboards, and printed advertising. It is still a very popular font with advertising designers and has appeared on several movie posters including Rocky and The Dark Knight.
---
6:


Verdana is a humanist sans-serif typeface designed in 1996 by Matthew Carter for Microsoft. It was designed specifically to be read at small size on a computer screen. Every character of the alphabet was carefully planned and created so that they were all easily distinguishable on a screen. While this typeface finds no love among graphic designers, it has been a hugely important and influential typeface in the progress of web media and remains one of the core fonts of the Internet.
---
5:


Myriad is a humanist sans-serif typeface designed by Robert Slimbach and Carol Twombly for Adobe during the early 1990s. It was used extensively by Apple in the marketing of their products such as the iPod and iPhone, and Adobe have used the typeface across a wide variety of their products. It's a very economic typeface, very legible, and perfect for a wide range of corporate logos as well as a great display font. It also happens to be the font that we at Absolute Graphix adopted for our logo.
---
4:


Inspired from the fonts inscribed on emperor Trajan's Column (a monument in Rome) and deriving its name from the same source, Trajan is an old-style serif typeface designed in 1989 by Carol Twombly for Adobe. This typeface is an all-capitals style with no lowercase version (the lowercase is simply a smaller capital). It has a very elegant and classic appearance and elicits a sense of epic history, and is one of the most widely used typefaces in Hollywood. It has appeared on countless movie posters including Titanic, Interview with the Vampire, Sex and the City, The Mummy, and many others. Some designers criticise its over-use in the movie industry - it has even earned the nickname "the movie font" - but it rarely looks bad and can always sell a movie!
---
3:


Garamond is the oldest in this list of typefaces, being originally created for the French King Francis I in the 1540s. It's a serif typeface which has evolved over the centuries, and seems to have survived for the simple fact that it is widely regarded as one of the most legible typefaces for use in print. Garamond is very much alive and well today and can be found in many printed books as well as a number of logos.
---
2:


Futura is a geometric sans-serif typeface designed between 1924-26 by Paul Renner. It is based on simple geometric shapes such as squares, triangles, and circles, which gives it an attractive simplicity and forwardness. The typeface was used as the official style for the Apollo Moon landings and Stanley Kubrick's classic movie 2001: A Space Odyssey. It is still a very widely used typeface today, and can be seen in the Adidas logo, Absolut Vodka, and many other popular logos.
---
1: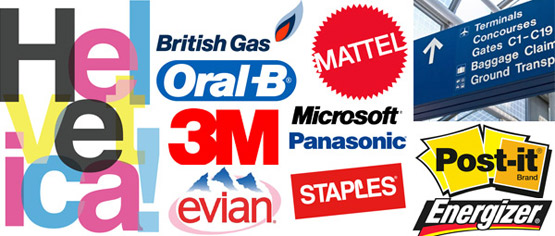 The Daddy of all typefaces! Originally created in 1957 by Max Meidinger and Eduard Hoffmann, Helvetica is without a doubt one of the most influential and widely-used typefaces in the world today. Helvetica is associated with modernism and minimalism. It is clean, simple and ordered; perfect in mundane situations such as basic information signs or where highly demanding graphical flare is required. Helvetica is robust, diverse, reliable, and unmistakable. Many similar fonts have emerged over the years, most notably the typeface Arial which is similar in several ways and popular thanks to it being widely distributed on home computers, but it remains an inferior copycat typeface. Helvetica is widely used in countless logos and it's likely that you see it every day somewhere in print, on signs, or on TV. Helvetica is not just a popular typeface, it is something of a cultural Tour de Force, attracting endless followers from the design world, and even inspiring an entire documentary film! Few typefaces can compete with Helvetica when it comes to popularity or influence.
---
The Other List: The Top Five Worst Typefaces of All Time.
Designers know a bad font when they see one. There are as many bad typefaces around as good ones. Some typefaces used to be good once but became stale and synonymous with amateurish design because of mass over-use. Others grew old and lame. But there is one typeface that has never been good, yet it plagues the world of graphics and design like a cancer and it needs to be eliminated. Find out which in our list of the worst typefaces of all time.
---
5:


Designed in 1982 by Robin Nicholas and Patricia Saunders as an alternative to popular typefaces such as Monotype Grotesque and Helvetica, Arial is a sans-serif typeface that has spread across the world like a plague thanks to its easy availability on home computer systems. Arial is not as elegant or classy as either of its stablemates and few serious designers ever give it consideration. Arial hasn't made it onto this list because it's a particularly poor typeface; while it isn't a great typeface, it is acceptable on several levels but it has made it on this list because it is so madly overused by the amateur or lazy designer, often thrown onto a page because it has that "basic blocky text" look to it. Professional designers find Arial quiet nauseating.
---
4:


Papyrus is a typeface designed by Chris Costello in 1982, and little did he know what a monster he had created! When it was first hand-drawn over a six-month period, the typeface had a number of characteristic human touches to it such as rough edges and irregular curves. However, over the years the typeface has suffered a blistering explosion of over-use by amateur designers on their home-made party invites and birthday posters, or "in-house" inkjet posters for shops and restaurants, and as such the typeface has lost all credibility among professional designers because it has become so heavily associated with amateur design. It has also been regularly criticised for being illegible. Amazingly, James Cameron used the typeface for his Avatar movie poster much to the shock of the professional design world. What was he thinking?
---
3:


Brush Script is a casual connecting script typeface designed in 1942 by Robert E. Smith. It features an exuberant stroke that is supposed to emulate hand-written letters with an ink brush. Brush Script was hugely popular during the 1950s and 1960s with advertisers and publishers. The problem with Brush Script is that it has dated terribly. These days it looks like the fat, lazy uncle of a more elegant script font, and is even quite ugly by today's standards, although, when used correctly, it can retain some retro charm.
---
2:


Copperplate Gothic is a typeface designed by Frederic W. Goudy in 1901. When it was first introduced, this typeface was a popular choice for stationery, social printing, and etched into the glass of banks and restaurants. Sadly, the typeface has aged and these days it looks tired and jaded. It has an industrial ugliness to it, probably from its unusual combination of influences, reminiscent of stone carving and Victorian display types, which hardly inspires the modern viewer. Copperplate has been abused by the amateur designer which has shredded its credibility and most professionals avoid it like a virus.
---
1:


This is it. The worst typeface. EVER. Comic Sans is a casual script typeface designed by Vincent Connare and released in 1995 by Microsoft. It is possibly the least professional choice a "designer" can make. It suffers from being a "cute" font, designed to mimic comic book script, but thanks to wide distribution on home computer systems it has had a constant widespread, usually inappropriate, use. The use of Comic Sans on financial reports, packaging, signage, in fact pretty much everything, is often at odds with the tone of the message (for example, a sign that reads DANGER - DO NOT ENTER in comic sans often renders the tone of the message less serious). There is even a website dedicated to doing away with the typeface at bancomicsans.com. In their words, "Since the creation of Comic Sans, the typeface has been used in countless contexts from restaurant signage to college exams to medical information. These widespread abuses of printed type threaten to erode the very foundations upon which centuries of typographic history are built." It remains one of the most horrible, awful typefaces of all time. It's rubbish! Don't use it unless you are making a comic!
---